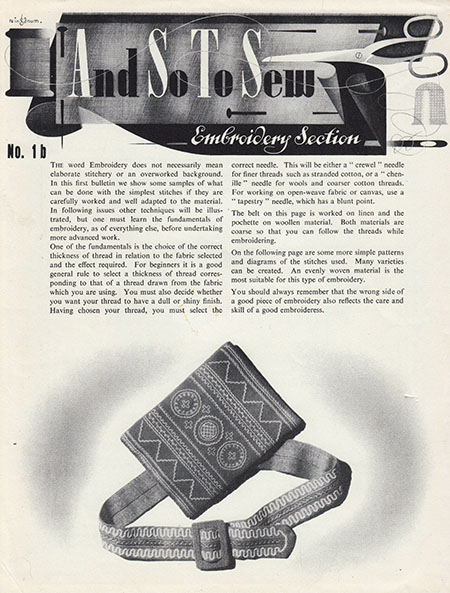 The earlier issues of the Needlework Development Scheme's embroidery leaflets were called "And Sew to Sew  Embroidery Section", with the letter b after the number.
Leaflet 1b is the simplest in the series and includes:
A very basic introduction to embroidery with tips on choosing the right thread and needle for your project.
Photographic samples of an embroidered belt in linen, and a woollen clutch purse.
A sampler including various running stitches (double, whipped, threaded and interlaced), and half cross stitch.
I have scanned the images at a very high resolution so you can zoom in for a close look.

 Download "And Sew to Embroider" leaflet 1b
Video Instructions
If you're like me, and you really like to learn from videos, here are some to cover the stitches shown in the leaflet.
These video embroidery tutorials are by Mary Corbet, unless otherwise noted.
Running Stitch
Double Running Stitch, aka Holbein Stitch by Ruth's Embroidery
Whipped Running Stitch
Threaded Running Stitch by Shagufta Fyms
This is not an English language video but is still very easy to follow.
Interlaced Running Stitch (Pintangle photo tutorial)
Worked like raised cretan stitch, but over a base of running stitch instead of back stitch.
Half Cross Stitch by Sarah Homfray Embroidery