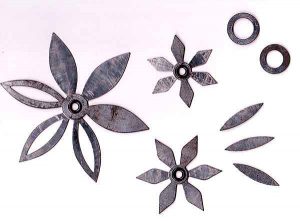 Kay's practical embroiderer templates are a strange device used to create a pile effect in embroidery, often called Amish stumpwork. Despite their age they can occasionally be found on ebay and online shops that specialise in vintage needlework tools. Whilst set one, shown above, can often be found with a bit of searching (at the time of writing this), set two is very rare.
If you would like to make your own, I have provided a link below to a scan of my templates, which are a complete set of set number one. Stick them to a sturdy cardboard or trace them onto quilter's template plastic and cut them out.
The embroiderer works using surface satin stitch over the top of the metal pieces, making tiny stitches at the sides and working back and forth instead of stitching across the back and working in the same direction on every stitch (as in regular satin stitch). Many layers are worked this way, then the stitching is cut down the middle and the template is removed, creating a pile effect. Different colours could be used on each layer to create shaded work.
Click here for a full step by step photo tutorial on working German tufted wool embroidery.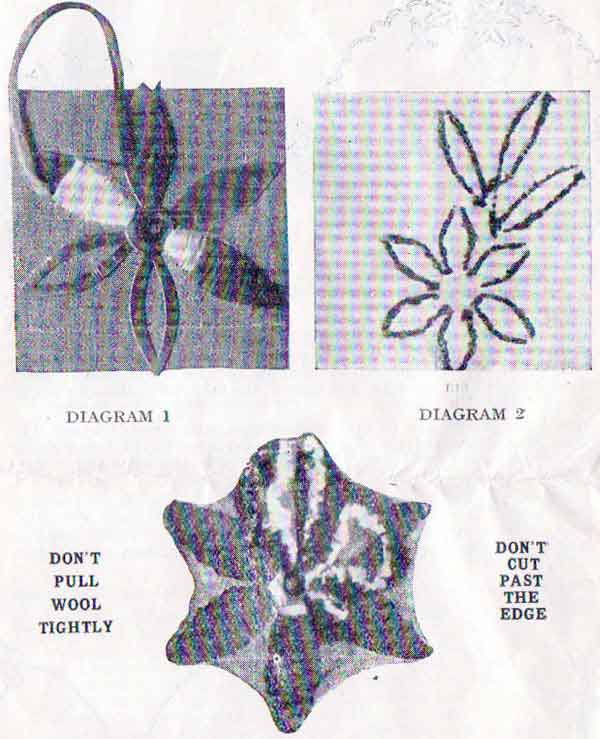 Click here to download a high resolution pdf file of the instruction booklet (approx 3.5mb)
Click here to download a scan of my templates so you can make your own..
---
Copyright Sarah Bradberry December 2010. All rights reserved.