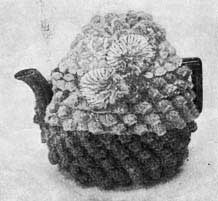 Note: This pattern uses Australian/UK crochet terms.
Double crochet = US single crochet,  Treble = US double crochet etc.
This exquisite little cosy is ever so quickly crocheted, and is in treble-stitch throughout.
The original was worked with six rows of deep pink "fox-gloves" at lower edge five rows of paler pink in centre, and three rows of white at top. It is designed to cover a four-cup teapot; but a larger or smaller size may be obtained by adding (or subtracting) 6 chains for every inch
Materials
1 skein each deep pink, paler pink and white 4-ply wool. (fingering weight)
Old UK Size No. 12 Inox or Stratnoid Hook.
Pattern
Using deep pink wool ch. 38 sts.
(3 ch. Stands for 1st. treble throughout.)
1st Row: 1 treble into every chain. (38 treble) turn.
2nd row: (Work into front loop only of previous row); 1 treble into each of first 3 treble of previous row, * 5 treble into 5th treble, 1 ch, take up loop of first of 5 treble (just worked) 1 ch., 1 treble into each of next 3 treble *. Repeat from * to * to end of row, 2 ch., slip stitch into back loop of last stitch of previous row. Turn.
3rd Row: 1 treble into back loop of each treble along row.
4th Row: Same as 2nd row, making a raised flower (5 treble) in the second stitch of previous row.
5th Row: Same as 3rd row.
(There should be 9 flowers on 2nd row and 10 on the 4th row.) Repeat 2nd and 3rd rows in dark shade until there are 6 rows of "fox-gloves;" then work 5 rows in paler pink, and 3 rows in white; decreasing in the last 2 rows to first 8 flowers, then 7.
Work two sides in this way, then join (leaving openings for spout and handles.)
Work loosely all round top as follows: 1 treble, 1 chain, *(1 treble, 1 double treble, 2 triple treble, 1 double treble, 1 treble) all in one hole, 1 double crochet in next hole, repeat from * all around.
Then using mid shade, work 3 chain, 1 double all round.
Make a chain using last two shades of wool together, and finish with two tassels after threading through the holes. Stretch the top edge with fingers to obtain fluted edge.
---
This pattern is in the public domain. Digital version copyright © Sarah Bradberry 2002.  Kindly transcribed for Knitting-and.com by Caroline Laudig.