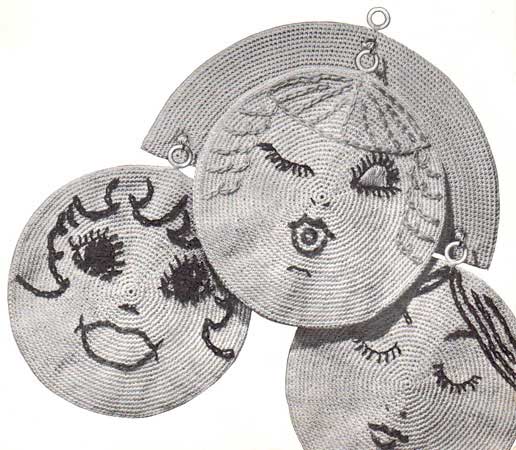 This pattern uses American crochet terms. US single crochet = UK double crochet. US double crochet = UK treble and so on
Materials
J. & P. Coats Knit-Cro-Sheen or other size 10 pearl/perle cotton, 2 balls of Ecru.
Clark's O.N.T. or J. & P. Coats Six Strand Embroidery Floss, 2 skeins of Black, 1 skein of Yellow, 1 skein of Brown, 1 skein of Red, 1 skein of Blue.
Steel Crochet Hook US No. 9/1.4mm
4 bone rings.
3 screw hooks.
This amount is sufficient for 3 pot holders and a rack.
Pattern
Holders
Starting at center, ch 2.
1st rnd: 7 sc in 2nd ch from hook (do not join rnds).
2nd rnd: 2 sc in each sc around.
3rd rnd: * Sc in next sc, 2 sc in next sc. Repeat from * around.
4th rnd: * Sc in 2 sc 2 sc in next sc. Repeat from * around. Continue thus increasing 7 sc on each rnd until piece measures 6¼ inches in diameter.
Work 2 rnds without increasing.
Make 5 more pieces same as this.
Finishing
Embroider features as in illustration with Six Strand, making eyes and hair of one with Black; the down-cast eyes and hair of second with Brown; hair with Yellow, eye with Blue; and lashes with Black on the third; lips and nostrils in Red.
Tack pad to back.
Sew back and face pieces together around edge.
Sew bone ring to back at top.
Rack
Work as for Holders until piece measures 10 inches in diameter. Fasten off.
Fold in half. Cut a circle of heavy cardboard 10 inches in diameter; then cut cardboard circle in half.
Insert both pieces between folded piece of crochet and sew open edges together.
Sew a bone ring to top of curve.
Screw a hook at each straight end and one in center of curved edge. Hang up holders.
---
The original publication of this pattern is in the public domain. This digital version is copyright Sarah Bradberry, July 16th 2012. All rights reserved.