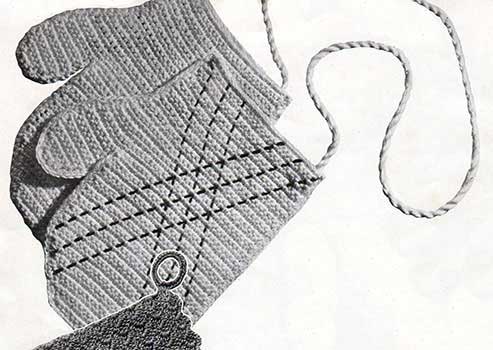 This pattern uses American crochet terms. US single crochet = UK double crochet. US double crochet = UK treble and so on
Materials
J. & P. Coats Knit-Cro-Sheen or other size 10 pearl/perle cotton, 2 balls of White or Ecru, or 3 balls of any color.
Clark'S O.N.T. or J. & P. Coats Six Strand Embroidery Floss, 1 skein each of a light and dark color.
Milward's Steel Crochet Hook US No 3/2mm
This amount is sufficient for a pair of Mitts.
Gauge
7 sts make 1 inch; 6 rows make 1 inch.
Pattern
Using double thread, ch 29.
1st row: Sc in 2nd ch from hook and in each ch across (28 sc). Ch 1, turn.
2nd row: Sc in each sc across. Ch 1, turn. Repeat 2nd row until piece measures 1 inch.
To shape for thumb, inc 1 st at same edge every other row until there are 37 sts.
Starting at thumb edge, work across 9 sts. Ch 1, turn.
Work over these 9 sts for 1 inch.
Dec. 1 st at both ends of each row until 3 sts remain. Fasten off.
For Palm, attach double thread where sts were divided and work over remaining 28 sts until piece measures 6½ inches from foundation chain.
Dec. 1 st at both ends of each row, until 10 sts remain. Fasten off.
Make 3 more pieces same as this.
Cord
Cut 12 strands of thread, each 60 inches long. Twist these strands tightly; double twisted strands and give them a second twist in the opposite direction. Tie loose ends in a knot and trim.
Finishing
Lay 2 pieces together (thumbs corresponding), and work a row of sc around through both thicknesses, leaving wrist edge open.
Finish other Mitt in same way.
Sew an end of cord to wrist edge of each Mitt.
Embroidery
Make 3 diagonal stripes across back of Mitt by running double (12 strands) of dark Six Strand in and out the rows of crochet.
Cross the dark stripes with 3 stripes of light color as in illustration.
---
The original publication of this pattern is in the public domain. This digital version is copyright Sarah Bradberry, July 16th 2012. All rights reserved.