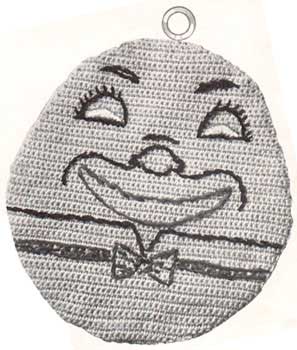 This pattern uses American crochet terms. US single crochet = UK double crochet. US double crochet = UK treble and so on
Materials
Clark's O.N.T. or J. & P. Coats Pearl Cotton, size 5, 1 ball of Ecru.
Clark's O.N.T. or J. & P. Coats Six Strand Embroidery Floss, 1 skein each of Red, Black, Blue and Green
Steel Crochet Hook No. 7/1.65mm
A piece of gingham or cotton fabric for lining.
Gauge
10 sts make 1 inch; 9 rows make 1 inch.
Pattern
With Pearl Cotton, ch 11.
1st row: Sc in 2nd ch from hook and in each ch across. Ch 4, turn.
2nd row: Sc in 2nd ch from hook, sc in 2 ch (3 sc increased), sc in each sc across to last sc.  Then make a foundation
sc as follows:  Insert hook in last sc, draw loop through;  thread over and draw through 1 loop (1 ch st made, to be used as a foundation st for next sc); complete sc in usual manner.  Insert hook in ch st and work as before. Make 1 more foundation sc and 1 sc in the usual way (3 sc increased). Ch 4, turn.
3rd and 4th rows: Repeat 2nd row, chaining only 1 at end of 4th row.
5th to 12th rows incl: Sc in each sc, increasing 1 sc at both ends of row – to increase 1 sc, work 2 sc in 1 st. Ch 1, turn. There are 44 sc at end of 12th row.
Hereafter increase 1 st at end of each row, until there are 58 sts.
Work 1 inch straight. Then dec 1 st at both ends of next row and every 3rd row thereafter, until 50 sts remain – to dec 1st, work off 2 sts as 1 st.
Now decrease 1 st at end of each row until 34 sts remain.
Next row: Sl st across 3 sts, ch 1, sc in each st to last 2 sts. (2 sts decreased at each end ). Ch 1, turn.
Repeat last row until 10 sts remain. Fasten off.
With Six Strand, embroider mouth and nostrils in Red, the iris of the eyes in Blue; do the rest of the features and outline the collar with Black.
Embroider the tie with Green.
Pad this piece on wrong side. Cut lining slightly larger than crocheted piece to allow for turn-in.
Cut a strip of fabric 2 x 7 inches for band.
Fold strip in half lengthwise, and seam raw edges; then turn to right side.
Sew lining to back of crocheted piece, having band across center back, and turning ends under between fabric and crochet.
---
The original publication of this pattern is in the public domain. This digital version is copyright Sarah Bradberry, July 16th 2012. All rights reserved.