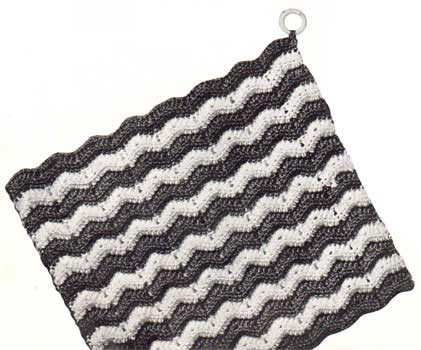 This pattern uses American crochet terms. US single crochet = UK double crochet. US double crochet = UK treble and so on
Materials
Clark's O.N.T. or J. & P. Coats Pearl Cotton, size 5, 2 balls of main color and 1 ball of a contrasting color.
Steel Crochet Hook US No. 8/1.5mm
A bone ring.
Pattern
With main color make a chain 10 inches long.
1st row: Half dc in 3rd ch from hook,  half dc in next 2 ch, * 3 half dc in next ch,  half dc in next 3 ch ( 1 point made),  skip 2 ch, half dc in next 3 ch.  Repeat from * until 8 points are made, having end of row correspond with beginning.  Cut off remaining chain. Ch 2, turn. Hereafter pick up the back loop only of each st.
2nd row: * Half dc in next 3 half dc, 3 half dc in center st of 3-half dc group,  half dc in next 3 half dc,  skip 2 sts (between points).  Repeat from * across, skipping next to last st. Drop thread, turn.
3rd row: Attach contrasting color, ch 2 (to count as half dc) and work as for 2nd row. Ch 2, turn.
4th row: Same as 2nd row, continuing with contrasting color.
Pick up main color and continue in this manner, working 2 rows of each color, until piece measures about 6 inches, ending with main color. Break off.
Make another piece same as this, using main color only.
PAD – Cut flannel, muslin or any soft material, slightly smaller than crocheted pieces. Place between crochet, tacking to wrong side of one piece.
Insert pad, and join pieces by sewing edges together neatly.
Sew bone ring to corner.
---
The original publication of this pattern is in the public domain. This digital version is copyright Sarah Bradberry, July 16th 2012. All rights reserved.