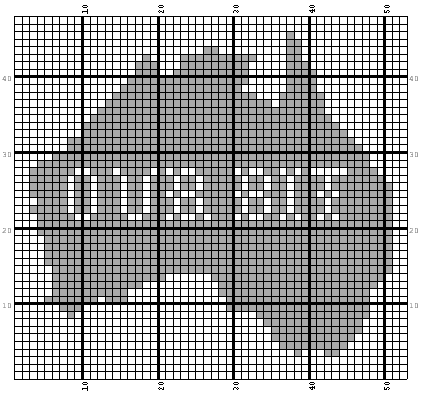 "Our Bit" milk jug cover. Filet Crochet with beads. Maker Unknown. Pioneer's Women's Hut, Tumbarumba NSW.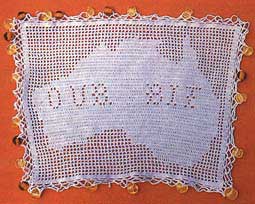 Photograph by Heidi Herbert. From the book "The Gentle Arts" by Jennifer Isaacs. ISBN 11-86302-596-0 Published by Lansdowne
I redesigned this chart from a picture from Woman's Budget Magazine (Australia) I found in an old scrap book as the original had some accidental increases. I suspect it dates from around WWII as the magazine only cost two pence.
Many such filet crochet designs were made by Australian women during wartime. They commemorated the lives and losses of their loved ones, visits by dignitaries, significant victories and events, and the part that women played in keeping their homes, farms, and country productive while their men were at war.
Apologies to Tasmania. It seems you were forgotten once again…
---
This pattern is in the public domain. Digital chart is copyright© Sarah Bradberry