As you all know, behind every successful YouTube channel is a cat.
Or four.
I'd like to introduce you to our little rescue-cat brood.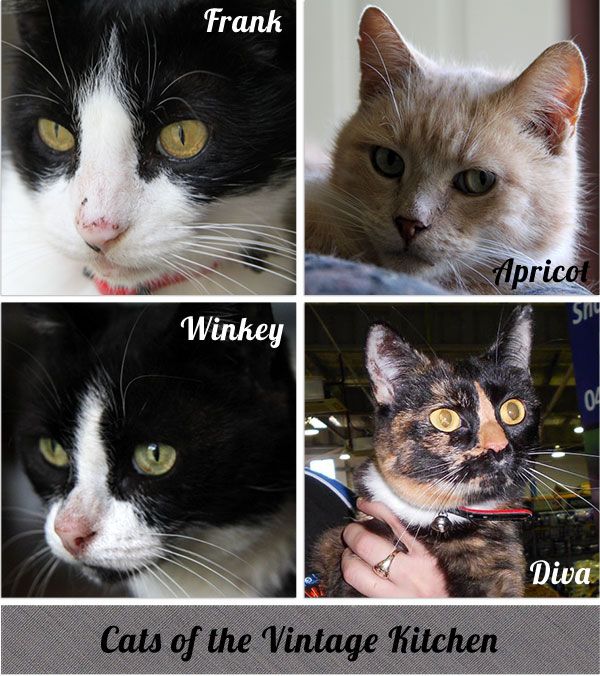 Frank is our oldest cat at 14 years of age. He's 50% comedian, 50% troublemaker :). He was plonked over our front fence at about 2 months of age and has been wreaking havoc ever since. You'd be correct in assuming that's skin cancer on his nose but don't worry, it's been removed and tested and it's benign. We keep a very close eye on it, especially since any more surgery would be risky at his age.
Apricot and Winkey are brother and sister. They were rescued from being eaten by a dog by a friend of ours at 4 weeks of age. Apricot is just about the most gentle cat I have ever met, despite having had 1/3 of his tail cut off by one of the men that was trying to get his dog to eat them. Winkey has been completely deaf since birth and only learnt to meow at about 2 years of age. It took her 10 years to learn to purr with any sound and 2 years to learn to trust anyone but our direct family. Both are about to turn 11 1/2 years old. You can possibly tell that, despite the difference in their ages, Winkey and Frank have the same father. We used to live in a very small country town and their father was our neighbour's tom cat.
Finally there's 2 year old Diva who was given to me this morning by my daughter for my birthday next month. We've been seeing her everywhere over the last month. She was in the rescue room at the vet when we went to pick up my daughter's rabbits after they were desexed. Then she was in the rescue pen at the pet shop where we buy our cat's monthly flea and worming treatments. The day before yesterday she turned up in my faceblerk feed and we decided she was supposed to come home with us. That's her adoption publicity photo as she's currently asleep under my desk (Frank is asserting his rightful place in the family by being asleep on my desk, lol).
So those are all that cats that I'm tripping over and being meowed at by every time I film a cooking video. Now excuse me while I go and wash the fruit that was on the kitchen counter. Diva sat on it…