Apologies for my continuing absence. I've been napping a lot in between crafting, visiting the midwives clinic and having all those fun (not) tests that are inflicted upon pregnant women.
Speaking of crafting, since that's what you're here for, I thought I'd write a few posts about what I have been making for my 15 year old daughter and son-in-progress. I'll post all out of order and start with the things I have made for my daughter.
First of all is the Texture Shawl Collar Jacket from Patons Australia, booklet #1264, Inca Fashion Knits. I actually received the pattern as a freebee from Stitches magazine so I don't have the whole booklet.
Here's a pic:
(oops, the pic seems to have been lost during a website update. Sorry)
It looks quite baggy in this photo but in reality it fits very well. Slouchy teens, what can you do 😉
I really enjoyed knitting this jacket. The stitch pattern is easy to remember but changes enough to keep it interesting and it works up really fast. I really like the Patons pattern books as Brittany likes many of the designs and many them are written in sizes small enough for her.
I knit the small size and made the whole thing 4.5cm shorter because Brit is so tiny (for our family, lol) and used 2.5 balls of yarn less because of the shortening.
I would keep this particular yarn for special garments. It's loosely spun so it wouldn't stand up to a lot of wear and tear, but for a special garment I find it really nice and would definitely use it again. The buttons are (I assume lasercut) coconut shell which I bought at Spotlight for $5 each. Actually, the hardest part of this jacket was finding the buttons!
Next up is a Hello Kitty Mini-Tote that I crocheted for Brittany's birthday last week.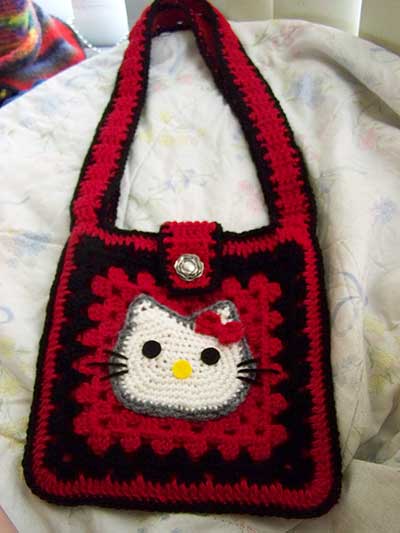 I used the face pattern from a backpack and made two granny squares for the purse section. It's made from Cleckheaton Country 8 ply (dk weight) wool and lined with some red cotton. The eyes are felt stuck on with washable craft glue. I've been crafting from patterns a lot lately and it was nice to make up a pattern on the fly for a change.
Speaking of things that are different, this is Gary the evil sock monkey.
Front: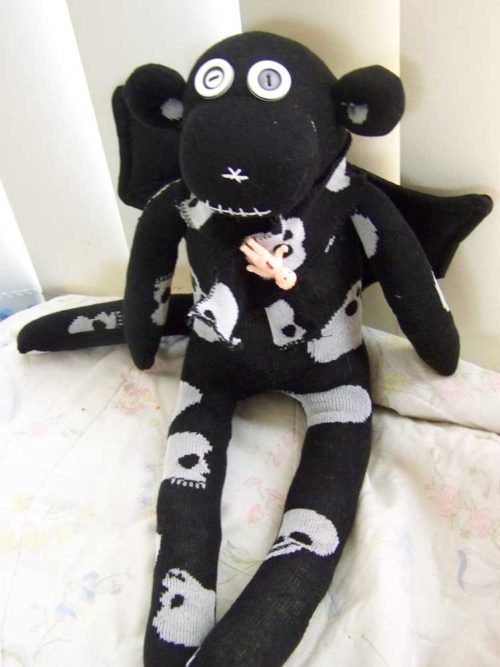 and back (so you can see his wings):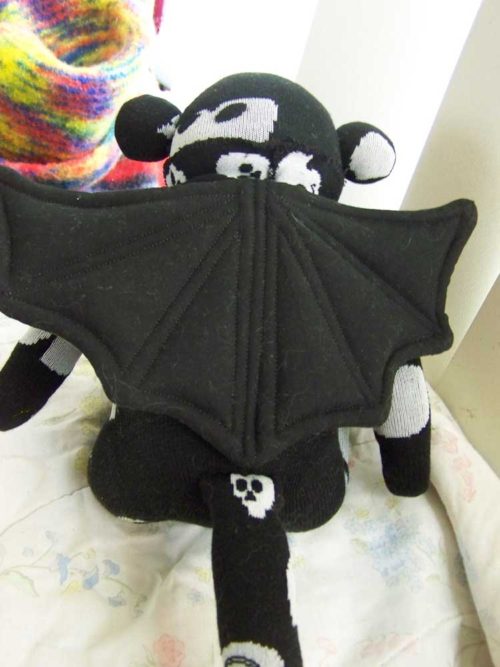 Gary is a basic sock monkey with quilted wings.
To make the wings I drew a basic wing shape on a piece of paper. Then I cut 2 out of black homespun cotton and one from a medium weight quilt batting.
I stitched the batting and fabric together with the two layers of fabric on the bottom and batting on top, leaving a gap for turning. I then trimmed the batting from the seam allowance, turned it right side out and hand stitched the gap closed. Finally I finished off by stitching the triangles inside the wings to create the detail. It's a lot easier than it sounds, I swear 🙂
Of course all evil flying sock monkeys need a best friend, so when I saw this pattern featured on the Craft: magazine blog, I had to make one!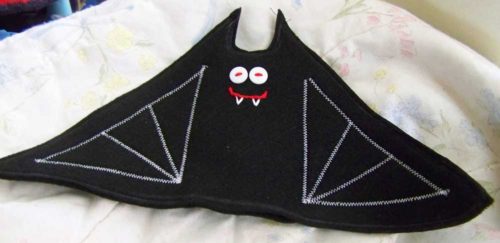 That's all of my crafting for teens at the moment. Tomorrow: baby blankets!