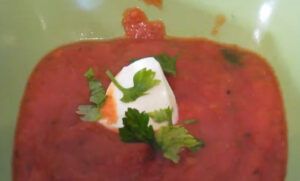 Tomato soup, yum! This classic recipe can be adjusted to your tastes in many ways. It's a great soup for starters, or fill up your bowl and serve with toast for a main course.
Ingredients
All tablespoons are the standard 15ml tablespoon. If you're using an Australian 20ml tablespoon, adjust the number of spoonfuls accordingly.
8 cups of tomatoes (US or metric). You can use fresh tomatoes with the skins removed, or use canned tomatoes as I have.
1 onion, chopped
parsley
1 bay leaf
1/4 – 1/2 teaspoon of ground cloves
1/2 teaspoon pepper
1/4 – 1/2 teaspoon of nutmeg
6 tablespoons of butter – that's 80gm or 2 1/2oz
4 tablespoons of plain flour
Salt, pepper and cayenne pepper to taste
Optional for serving – sour cream and extra parsley or butter and shaved fresh Parmesan cheese
This recipe makes 6-8 serves
Method
Put the tomatoes, onion, parsley, cloves, pepper and the bay leaf  in a saucepan.
Bring to a simmer for 20 minutes.
Remove the bay leaf.
Take off the heat and blend roughly.
In a different saucepan melt your butter over a very low heat. Add the flour, stir well and cook for one minute.
Add a few ladles full of soup to the flour mixture and mix to thin it out.
Put the blended soup back over the heat. Add the flour mixture to your soup and stir well until it's as thick as you want.
Add cayenne pepper, salt and nutmeg to taste.
Serve with a dollop of sour cream or cheese sprinkled on top.