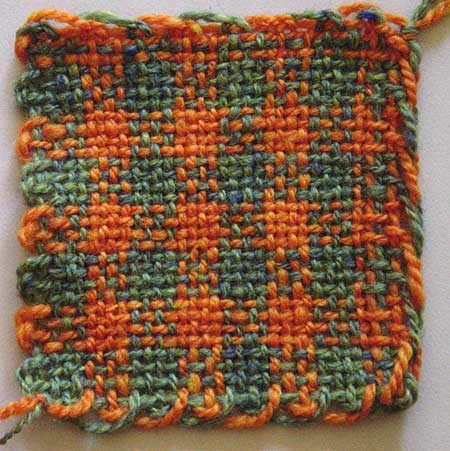 Playing with colour on small looms is a lot of fun and you can achieve surprising results with little effort.
This weave can be done on any size weavette loom.

Start by tying off two colours at the beginning of your weave (at the number 1)

Wind two rows of the first colour, 2 of the second colour and so on.
Continue all the way across the loom
Turn and wrap the second layer. Begin with the same colour on every layer.

When you get to the last wrap, use both colours together so that your yarns are in the correct spot to begin the third layer.

Wrap the third layer
Using both threads together for the final wrap so that your yarns are in the correct position for weaving
Measure your yarns for weaving. I find that 2.5-3 wraps around the circumference of the loom are usually enough.

Beginning with the same colour as you did on the previous rounds, weave 2 rows with each colour.

Repeat across the whole square.
The finished square
---
Copyright Sarah Bradberry September 22nd 2008. All rights reserved.