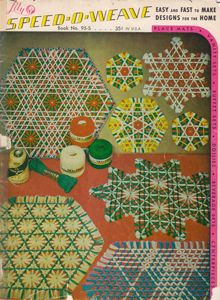 Easy and fast designs to make for the home.
This booklet, from the 1940's contains a large range of different weaves and projects to make on the hexagonal Lily Speed-O-Weave loom. It was reprinted in the 1970's with updated versions of the projects, however that issue is still under copyright (and these versions are much nicer in my opinion!)
They include:
Luncheon set
"Bright and Gay" beverage set
Patio doily
Plaid place mat
Oriental fantasy buffet set
Pointed daisy doily
Pointed doily (with centre flower)
"Daisy Field" vanity set
Doily number 8 with centre flower
"Daisy Symphony" centrepiece
Centrepiece (with triangles)
"Daisy Fantasy" centrepiece (shown here) and
Criss cross daisies place mat

Download Speed-O-Weave Booklet 95s
---
Copyright Sarah Bradberry, 22nd June 2014. All rights reserved.