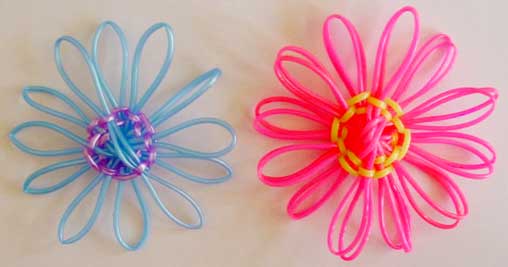 With a couple of simple tricks you can make great flowers with plastic shoelaces, such as scoubidous, s'getti strings etc.
I used s'getti strings to make my flowers.
Before you start winding your flower, stretch your strings as much as you can to make them thinner and longer. This iwll make them stretchier and keep any knots that you tie nce and tight.
Wind around your loom as you normally would. You might need to join in more strings as you wind. Don't worry, you can tie them together later on.

Wind as many rounds as you like. My blue flower has one round of petals and my pink flower has two.

Stitch the centre of your flower using another stretched string and the double woven method. I tried several different types of centres but the other styles caused the petals to twist when I took my flowers off the loom.
Take your flower off the loom and finish off the ends by threading one end under the centre threads on the back of your flower and
tie them in a knot. Trim the ends close. Stretched s'getti strings are pretty sticky so they shouldn't come undone.
My finished flowers 🙂
---
Copyright Sarah Bradberry April 2007. All rights reserved.