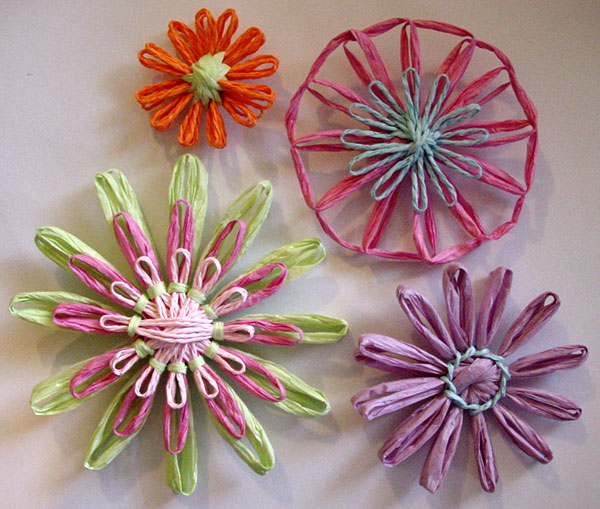 Paper string makes great loomed flowers. You just need to remember a couple of simple tips when using it.
If you want to spin your own paper yarn there is an excellent tutorial in this thread on Craftster. (See my small looms page for instructions on making loomed flowers)

Old sewing patterns and tissue gift wrap make great paper yarns and you can find tissue in a huge range of colours. Choose one with a slightly glossy finish as the waxy coating adds strength to the finished string.

I have used a commercial paper gift wrapping string for my samples.

Paper yarn behaves a lot like ribbon straw (or swistraw) when made into loomed flowers. It holds it's shape well and you don't have to dampen or steam it to get it to stay in shape.
When stitching your centres, pull the paper yarn quite tightly but be careful not to break it. It isn't as strong as ribbon straw.
Instead of darning in your ends, tie them in a knot. If you're afraid they may come undone put a dab of PVA glue on the knots and leave them to dry.
---
Copyright Sarah Bradberry, February 27th 2011. All rights reserved.