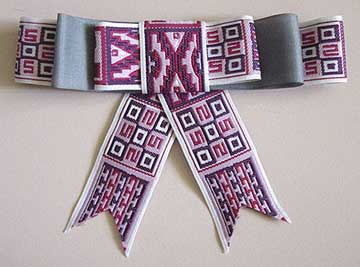 There are many ways to make fancy bows on a flower loom. Here is one method to get you started.
To make a bow you will need:
A flower loom with at least two rounds of pegs
Ribbons, ribbon straw, fabric, yarn or other materials for making your bow. The bigger the loom the wider you will want your ribbon to be. This is a great way to use up small scraps of ribbons and bias tapes.
Needle and thread to match your ribbon
Small bulldog clip
Glue (optional if you prefer glue to stitching your bow)
You can make your bows with a single piece of ribbon but for extra interest I like to make each set of loops from a different coloured piece.

Beginning with the biggest loops, hold one end of your ribbon at the centre of your loom and wind around the largest petals as shown in the photo. Hold in place with a small bulldog clip.

Take your second piece of ribbon and wind around the next smaller ring of spokes.
Repeat for the smallest loops if you are using a loom with three rounds of spokes.
Take your bow off the loom. Stitch in place with a line of stitches up the centre. They will be covered later on.
Trim the raw ends of each piece of ribbon so they may be hidden under the middle of your bow.
Cut a short piece of ribbon and wind it around the middle to form the centre of your bow.

Stitch on the back.

Cut two pieces of ribbon to form the tail of your bow.

Cut a "V" shape out of the end of the tails for an old fashioned look if you desire.

Stitch to the back of your bow so they sit at an angle to each other.
Some bows I have made from various materials.

For the orange and brown lace bow I used the loom to measure the largest loops only and laid gathered tulle scraps on top before covering the middle.

You can try lots of variations with materials including torn strips of fabric or flattened out ribbon straw.
---
Copyright Sarah Bradberry, April 22nd 2011. All rights reserved.