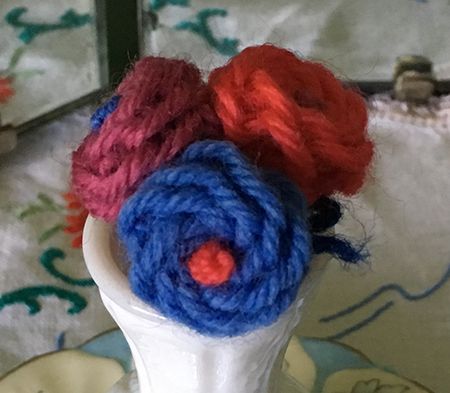 These flowers were made on the Mary Louise flower pattern plate no.2, originally manufactured by Bucilla in 1922. You can make your own loom by tracing the full size image from the basic instruction sheet I have supplied here. I used oddments of tapestry wool in three colours.
You can also make these flowers on any 3½ to 4″ loom but they will look slightly different as most looms of this size have more spokes than the Mary Louise flower pattern plate.
To make the bachelor's buttons:
Using worsted weight yarn, wind your loom following the basic directions for the Mary Louise flower pattern plate. (If using a modern flower loom, make a single round, winding around 2 spokes at a time)
Cut your yarn leaving a one yard/90cm tail to weave wit
Using the same yarn, work around your loom using the stem stitch weaving technique but do not begin with a knot. Since you don't tie off the yarn, make sure to work the first round quite tightly.
Keep working until you have 2 inches, or 5cm of yarn left. You will have a woven disc on your loom, about an inch and a half across.
Cut the loops of the yarn on the back of your loom to free the flower from the loom.
Hold these ends together to form the stem and gently pull the last round of weaving to gather the flower around them and form the finished shape of the flower.
Tie the stem in a knot close to the woven flower head, or tie one strand around the stems if they are too short to tie in a knot.
Using another colour, work a French knot in the centre of your flower.
---
Copyright Sarah Bradberry, October 31st 2015. All rights reserved.