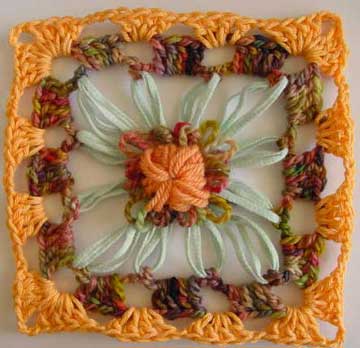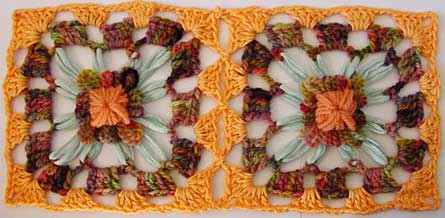 This edging uses square motifs made on the Studio Twelve "1000 Flowers" loom, dk weight wool and a 4mm crochet hook.
The edging can be adapted for flowers and yarn of any size by changing the number of chains and trebles worked.
This pattern uses UK crochet terms which translate to US terms as follows:
DC (Double crochet) = US single crochet
TR (Treble) = US double crochet
Round 1: *1dc into petal, 5 chain; repeat from * around the flower, slip st into first dc. Cut yarn and fasten off.
Round 2: *4tr into space made by 5 chain on previous round, 3ch; repeat from * around, join to the first tr.
Round 3: Work as for round 2, but work 4tr, 3 chain, 4tr into each corner (where the long petals are).
To join motifs using this edging replace the 3ch between trebles on the final round with "1 ch, slip stitch into the corresponding space on the edging of the motif you are joining to, 1ch"
---
Copyright Sarah Bradberry March 2007. All rights reserved.