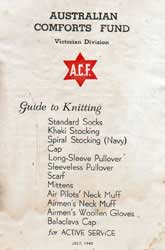 from "Guide to Knitting for the Services" by the Australian Comforts Fund, 1940
Materials
For Navy and Air Force: Use Navy Blue Wool. For Army: Use Khaki or dark colored wool.
About 3 ozs. Sports Wool
set of four UK No. 10/3.25mm/US 3 or UK No. 11/3mm/US (no equivalent) needles.
Pattern
Cast on 52 stitches (16 on each of two needles, and 20 on the third)
Work in k2, p2 rib for 4 inches, then work 6 rounds knit (stocking stitch).
Commencing Thumb Gusset
Knit 1, purl 1, increase once in next stitch (knit into the front, then back of the stitch), knit 2, increase once in the next stitch, purl 1, knit to end of round (the two purl stitches mark the outside of the thumb).
* Knit two rounds, but purl the stitches that were purled in the previous round. From now on make sure to purl the purl stitches on every round.
Increase once on the inside of each of the purl stitches; knit plain to the end of the round.*
Repeat from * to * until there are eighteen stitches between the two purl stitches.
Knit two more rounds without increasing.
In the next round:
Knit 2 (the second one the purl stitch); slip the next 18 stitches on to a stitch holder, and leave for the thumb.
Cast on 4 stitches. Knit to the end of the round.
Knit 10 rounds
Work 10 rounds k2, p2
Cast off loosely.
The Thumb
Knit the 18 sts from the stitch holder onto two needles (9 on each needle)
Using your third dpn pick up and knit 6 stitches along the edge where you cast on 4 stitches above the hole for the thumb.
Knit 6 rounds plain, and then 6 rounds in rib of 2 plain and 2 purl.
Cast off loosely
---
The original publication of this pattern is in the public domain, however this modernised and clarified version is copyright Sarah Bradberry, May 31st 2012. All rights reserved.