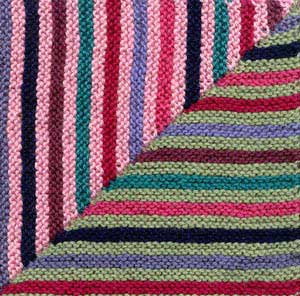 Materials
I used 50gm of oddments of Cleckheaton Country and Patons 8ply 100% Wools in various shades of pinks, purples, blues, and greens
Tension
20sts and 28 rows to 4 inches (10cm) over st st on 4mm needles, or needles needed to obtain gauge.
Abbreviations
K = Knit
P = Purl
WT = Wrap and turn: K to the point where your pattern says to turn but don't turn the work yet.
Bring your yarn to the front of the work,
Sl the next st from the left hand needle,
take your yarn to the back of the work,
Sl the st back to the left hand needle.
Turn your work.
The next time you knit the wrapped st, knit the wrapped yarn along with the stitch it is wrapped around, thus: Put the needle up through the wrap on the right side of the work, put the needle through the st and K the two together.
Technique
Work in stripes of 4 rows each colour.
Cast on 46 sts
1st row: K46, turn
2nd and all WS rows: K to end
3rd row: K45, WT
5th row: K44, WT
7th row: K43, WT
9th row: K42, WT
Continue working in this manner, knitting one less st on each right side row until you reach K1, WT, K1
You will now start increasing to knit the second triangle thus, making sure to knit both wraps along with all wrapped stitches:
1st row: K1, WT
3rd row: K2, WT
5th row: K3, WT
7th row: K4, WT
9th row: K5, WT
Continue in this manner until you reach K46,turn
Next row: K46
Cast off neatly and block.
---
Copyright © Sarah Bradberry, March 1998