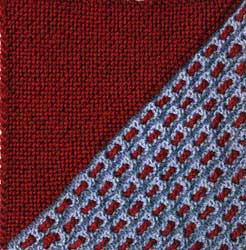 Materials
I used approximately 25gm each of unknown brand red and light blue 8ply (DK) wool.
Tension
20sts and 28 rows to 4 inches (10cm) over st st on 4.5mm needles, or needles needed to obtain gauge.
Abbreviations
K2tog = knit 2 together
YO = yarn over
inc = (K1, P1) into the next st
Technique
Using blue, cast on 2 sts and work as follows:
1st row: inc, knit to end
2nd row: inc, knit to end
3rd row: inc, (YO, K2tog) to last st, K1
4th row: inc, knit to end
5th row: inc, knit to end
6th row: inc, knit to end
Repeat these 6 rows 10 times (60 rows). Change colour and decrease as follows: K2tog, K to end. Continue until you have 2 sts left, cast off and block.
Make ten threads for weaving through the eyelets as follows:
Crochet a chain long enough to thread through the next row of eyelets, (Begin with the longest row). Weave the cord through the eyelets, alternating the way you thread in each row, to form a brick design (as in the image above).
When you have woven all the cords, secure them at the back of the square by sewing in the loose yarn at the ends in the same manner as you would when sewing in any loose ends on your knitting.
---
Copyright © Sarah Bradberry, July 1998