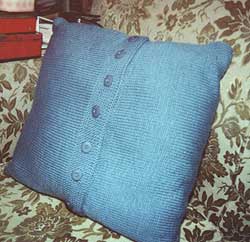 This image shows the back of the cushion cover. The front will depend on which squares you choose to use.
Abbreviations
K2tog = Knit 2 together
YO = yarn over
rep = repeat
Materials
4 knitted squares from the Odd-Ball Sampler Afghan
Approximately 200gm 8 ply (DK) yarn in your chosen colour for the back of the cushion cover @ approx 90m (100 yards) to 50gm (This will also be enough for your i-cord edging).
4.5mm needles, or needles to obtain gauge
8 x 2.25cm (7/8 inch) buttons to match the yarn chosen for the back of your cushion
45cm (18 inch) pillow form
Tension
20sts and 28 rows st st to 10cm (4 inches)
Method
Sew your 4 squares together to form one large square for the front.
Back
Button-hole Side:
Using 4.5mmm needles, or needles to obtain gauge, cast on 92sts and work 64 rows st st. Work buttonhole band as follows:  K 8 rows garter st
Buttonhole Row: K4, YO, K2tog, (K9, YO, K2tog, K10, YO, K2tog) rep twice more, K9, YO, K2tog, K6
K9 rows garter st. Cast off.
Make the button side of the cushion back as follows:
Cast on 92 sts and work 52 rows st st. Knit 18 rows garter st, cast off
Place the backs and front together with wrong sides facing and making sure that the side of the back with buttonholes is on top of the side that the buttons are sewn on. Sew together using mattress st.
If desired, knit a length of icord and sew all around the outside seam.
Sew on buttons to match the buttonholes and insert the pillow form.
---
Copyright © Sarah Bradberry 1998. Image Copyright Sarah Bradberry 2000