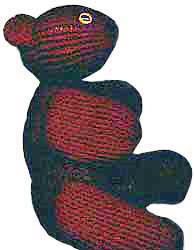 Materials
One machine
Yarn needle
Scissors
Measuring device
Worsted weight yarn in your choice of bear colors
Poly stuffing
If your bear is white or pastel, the white poly stuffing won't show as much. If you are lucky enough to live where you can buy colored stuffing you can make dark bears without their stuffing showing.
Eyes & nose or yarn to embroider his eyes and nose, or buttons to use for eyes and nose.
You may want knitting needles about #6 (4.00 cm) but any size will work, or felt to match your yarn. This is for his ears.
Directions:
You will be knitting tubes. I have found that if you just guide your yarn into the yarn guide and don't thread it threw the tension guide you will get a better tube. It will stretch the yarn less and make a more solid tube with less holes.
You need to make four tubes. Gather the end that you take off the machine like the instructions show in sections 8 – 13 on the instructions page.
Stuff them softly and close the remaining end the same way as you did
the first end.
Knit your tubes these sizes:
Body: 12 inches 30 cm (make 1)
Arm: 8 inches 20 cm (make 1)
Leg: 12 inches 30 cm (make 1)
Head: 4 inches 10 cm (make 1)
1. After the tubes are stuffed fold the body tube in half and sew the ends together. Press them flat so that you have a "shoulder" about 2 inches 5 cm wide.
2. Wiggle the stuffing around with your fingers until the crotch (the end opposite the stitches) has less stuffing there. Find the center of the leg and scrunch the stuffing away from the center of the legs, too. Thread the leg through the body, centering it and stitch it in place. You can use big stitches that go through the body tube. Try to 'encourage' the legs to fold forward so your bear can sit better, but if they won't, it won't matter much.
3. Scrunch the arm tube the same way as the leg and slide it into place on the stitched end of the body tube. Sew it into place as you did the legs.
4. The gathered end on the head is bear's nose. His head should be shaped a bit like an USA football. Pick you nicest gathered end to be his nose and set his head on his shoulders so that his neck is about 2/3 of the way to the back of his head. The back of his head will line up with his back when viewed from the side. Sew in place.
5. Knit ears or cut them from felt. You can give him an I-cord tail, too.
Here is my knitted ear pattern:
CO 3 stitches
K 3
K1, knit in front and back of next stitch, K 1 (4 stitches)
K1, knit in front and back of next 2 stitches, K1 (6 stitches)
K6
K1 knit 2 together twice K1 (4 stitches)
K1 knit 2 together K1 (3 stitches)
Bind off, weave in tail.
Make another one. Thread tail into yarn needle, hold ear in place and sew ear in place. Sew ends into bear to hide them.
Finish his face with embroidery, buttons or bought eyes. Knit him a scarf and hat, or socks or a shrug or..!
---
Image and pattern Copyright Hazel Spencer January 18th 2000 e-mail: Dorleska@tds.net