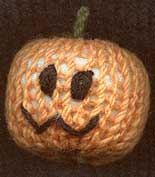 Size
Approximately 4cm tall excluding stalk
Materials
Scraps of orange, green and black yarn – DK or worsted weight
Small amount of toy filling
Method
Make a knitted tube of 12 rounds.
Take off machine according to instructions, but do not pull the top gather
tight.
Work locking stitches at the base of the knitting.
Stuff lightly, pull top gather tight and work locking stitches at the
top. Take yarn through the pumpkin at the top, down through to the bottom
and pull tight to form the dimple in the top and bottom of the pumpkin.
Embroider face using 2 lazy daisy stitches for each eye (work one lazy
daisy st around the other on each eye) and embroider the mouth with large
backstitches.
Make a small piece of green twisted cord (simply twist a piece of green
wool in the direction it was spun until it doubles back on itself) and
sew to the top of your pumpkin as the stalk.
---
Images and pattern Copyright Sarah Bradberry 1999