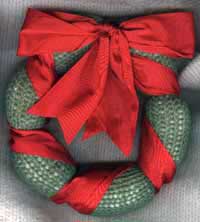 Size
The diameter of the wreath is approximately 20cm (8 inches).
Materials
Approximately 50 yards of DK or worsted weight yarn.
Small amount of polyester toy filling.
Approximately 2 metres of 5cm (2 inch) wide red ribbon.
Method
Make a knitted tube of 100 rounds.
Take off machine according to instructions, but do not pull the top gather
tight.
Work locking stitches at the base of the knitting.
Stuff lightly, pull top gather tight and work locking stitches at the
top.
Sew the beginning of the tube to the end, forming a circle.
Gather at 5 points around the wreath. You'll have a circle that looks
like it's made up of 6 knitted sausages.
Starting at the top, wind the red ribbon around the wreath. Make a big
bow at the top.
Add a loop for hanging at the back.
---
Images and pattern Copyright Sarah Bradberry 1999