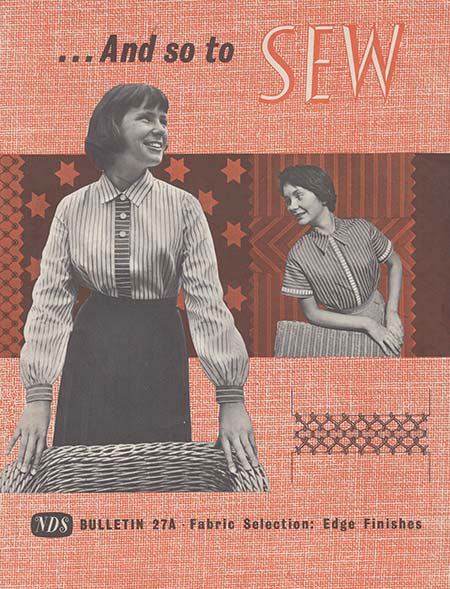 Leaflet 27a in the Needlework Development Scheme's series "And So To Sew" contains information on the different clothing styles and edge finishes that are suitable for different types of fabric, and ways different prints can be used to make creative edge finishes on cuffs, hems and button bands.
The contents include:
Designing with floral fabrics. Considering scale and pattern choice. How to create contrast on cuffs, collars and bands.
Contemporary and geometric fabrics. Matching patterns, using tucking, pleating and cutting to create interest.
Using contrasting fabrics in bands on different parts of your garment.
Using the pattern on your fabric and decorative machine stitching to create bands of interest.
Pin stitching. Using it as an edge finish or decorative element.
Shell edging with contrast binding
Criss-cross faggoting (also known as bridging)
Shell edge rouleaux with faggoting
Some of these techniques were first covered in "And So To Sew" leaflet 4a and are expanded upon in this leaflet.

Download "And So To Sew" bulletin 27a
Modern Tutorials
The following are modern tutorials for some of the techniques covered in this bulletin. I have also included some machine techniques that modern sewing machines can create, but wouldn't have been common on sewing machines from the 1950's.
Pin Stitching, aka Parisian Hem Stitch or Point de Paris by Hand
by Marie Suarez
Pin stitching can be a decorative stitch in itself, or can be used to create holes in your work in the same way as a hem stitch. This video shows how the stitch would look if you are using the stitch to applique one fabric on top of another in a straight line, and a warp thread has been removed from the underlying fabric.
The And So To Sew bulletin above also shows how to work a bolder version with two horizontal stitches on top of each other.
This video is in French (which I don't speak), but I found the actions very easy to follow regardless.
Pin Stitching by Machine from Janice Ferguson Sews
This two part pin stitching tutorial by Janie Ferguson covers pin stitching for heirloom sewing. It would be interesting to use the same stitch for less delicate projects, to see how it would look.
Shell Edging by Hand
Shell hem edge tutorial by hand from Threads Magazine (photo tutorial)
Shell Edging by Machine by Alice the Fabric Ninja
This video shows a shell edging worked on knit fabric but it will work on many different lightweight fabrics.
Bridging or Fagoting by Hand and Machine by Professor Pincushion
This video uses a sticky, water soluble backing for working the hand stitching but you can just as easily baste your work to an ordinary piece of paper. I collect old rolls of calculator and fax paper to use. I also find it easier to stitch from front to back. Try both directions and see which is easier for you.
How to Sew Rouleaux by Professor Pincushion