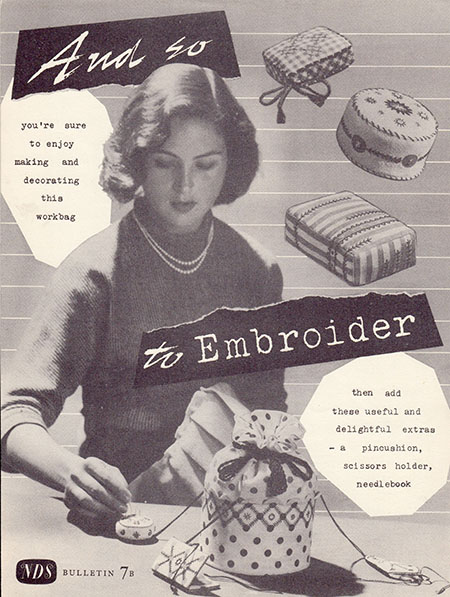 Leaflet 7b in the Needlework Development Scheme's series "And So To Embroider" includes:
Patterns for making and embroidering a work bag, two pin cushions, needle book and scissors case.
How to hand sew eyelets using tailor's buttonhole stitch
Sewing a scalloped edge

Download "And So To Embroider" leaflet 7b
Modern Tutorials
I am including two modern tutorials for the new techniques introduced in this bulletin. Tailor's buttohole stitch is the stitch used to finish the edges of the eyelets.
Tailor's Buttonhole Stitch (for sewing large eyelets) by Bernadette Banner
This tutorial shows sewing a buttonhole. To work an eyelet, follow the instructions in the bulletin for reinforcing the edges and cutting the hole. Then work this buttonhole stitch around the opening.
Sewing a Scalloped Edge by Landauer Publishing
After creating the scalloped edge as shown in the video, finish off with top stitching for an extra professional finish.