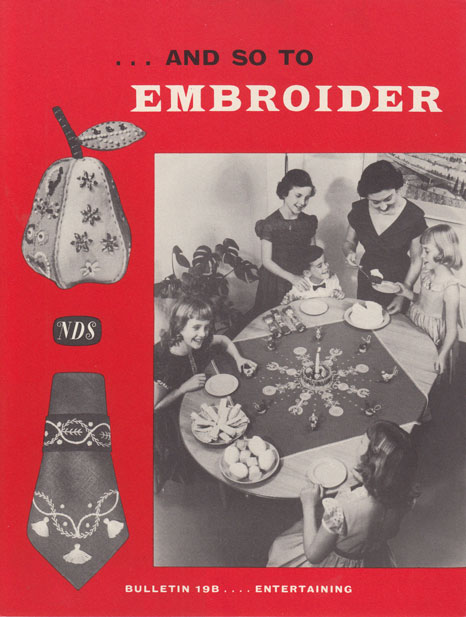 Leaflet 19b in the Needlework Development Scheme's series "And So To Embroider" includes project and design ideas for:
an Easter table cloth and decorations with 3D nest with eggs and tiny embroidered Easter chicks
a table setting for a dinner party with embroidered felt fruit centrepieces, placemats, napkins and napkin rings
glazed chintz placemats with matching coasters

Download "And So To Embroider" 19b
Modern Patterns
Felt Fruit
This leaflet contains a pretty centrepiece with embroidered felt pear, apple and banana, but leaves you to draft your own pattern. I realise that we don't all have the confidence or drawing skills to create our own, so I did some research and found the following patterns that could be used for this project:
This free pear pattern kindly supplied by Paper Crafts & Scrapbooking. If you scroll down the page, you'll find a link to download the pattern as a jpg or pdf.
Free felt apple and pear patterns and tutorial from Bugs and Fishes
A free felt banana tutorial from Designed, Decorated and Made While Wearing Heels
Felt Egg
This free embroidered egg pattern by Shiny Happy World is the perfect base to make the eggs for the Easter table centrepiece. Adjust the size if necessary by changing the size percentage when you print it out.