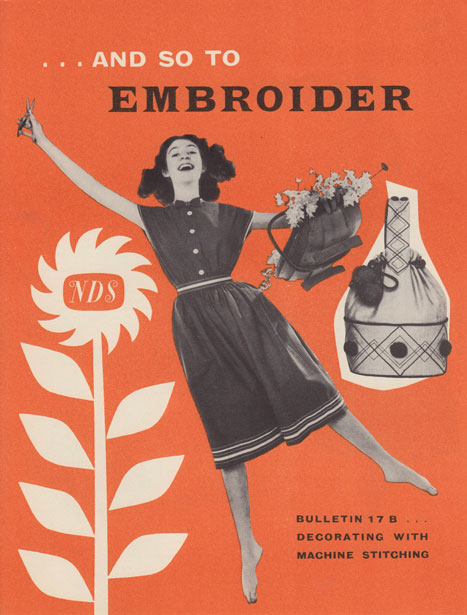 Leaflet 17b in the Needlework Development Scheme's series "And So To Embroider" includes various instructions for decorating projects with machine stitching using the basic stitches available on vintage, and all modern machines:
Plain straight stitching
Cable stitching – aka "bobbin work"
Preparing the design for stitching
Adding decorative stitching to skirts and blouses from previous bulletins
How to make a felt bag, belt and pockets
How to adapt a bag pattern from a previous bulletin to make a beach bag
How to construct a pair of sandals with embroidered straps

Download "And So To Embroider" leaflet 17b
Modern Tutorials
If you own a Singer 401, check out my free pdf with decorative stitching tips, and all of the stitches you can achieve with the different settings.
Bobbin Work
I have worked bobbin work embroidery on machines with both drop in bobbins and bobbin cases. When using a machine with a bobbin case, it's handy to have a second case marked with nail polish so you can freely play with the tension and not have to worry about returning it to it's original setting.
For drop in bobbins, you can either purchase a special kit for your machine, such as the Brother bobbin work kit, or follow the instructions in your manual for adjusting the bobbin tension. I find it's best to write down exactly how much I have loosened the tension (eg, a full turn, a quarter turn, etc), so I can easily set it back to it's original setting.
The following video will give you all the information you need to work bobbin work.
Bobbin Work for Beginners by Wonderfil Threads