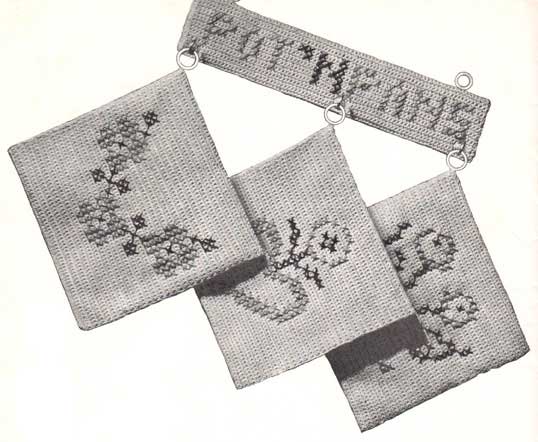 This pattern uses American crochet terms. US single crochet = UK double crochet. US double crochet = UK treble and so on
Materials
J. & P. Coats Knit-Cro-Sheen or other size 10 pearl/perle cotton, 2 balls of Ecru.
Clark's O.N.T. or J. & P. Coats Six Strand Embroidery Floss, 2 skeins each of 2 colors.
Steel Crochet Hook No. 7/1.65mm
5 bone rings.
3 screw hooks.
This amount is sufficient for 3 pot holders and a rack.
Pattern
Make an 8-inch chain.
1st row: Sc in 2nd ch from hook, sc in each ch until row measures 6½ inches. Cut off remaining chain. Ch 1, turn.
2nd row: Sc in each sc. Ch 1, turn.
Repeat 2nd row until piece is square. Fasten off.
Make another piece like this for this holder; make 4 more for remaining 2 holders.
Embroidery
Embroider in cross stitch, having each cross 2 stitches wide and 2 rows high.
Follow illustration for embroidery on each of 3 pieces, using full strand of any 2 colors of six strand for each piece.
PAD – Cut flannel, muslin or any soft material, slightly smaller than crocheted pieces. Place between crochet, tacking to wrong side of one piece.
Make pads and sew plain piece neatly to back of each embroidered piece.
Sew bone ring to upper left-hand corner of each pot holder.
Rack
Make a 12-inch chain.
Work as for pot holder pieces, making each row 10½ inches long instead of 6½ inches long.
Work straight until piece measures 4 inches in all.
Fasten off.
Fold edges in half (fold is lower edge).
Embroider "POTS 'n PANS" just above lower edge. Note from Sarah: The photo shows "pot 'n pans" but if you work the first letter P only 1 stitch from the edge you could fit the extra S.
Seam side edges.
Insert a piece of thick cardboard, measuring 2 x 10½ inches and sew opening closed.
Sew 2 bone rings at upper edges.
Screw 3 hooks at bottom of rack; hang holders on hooks.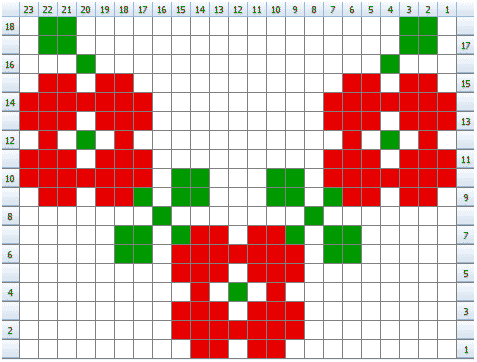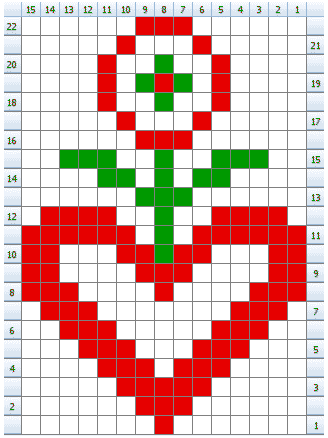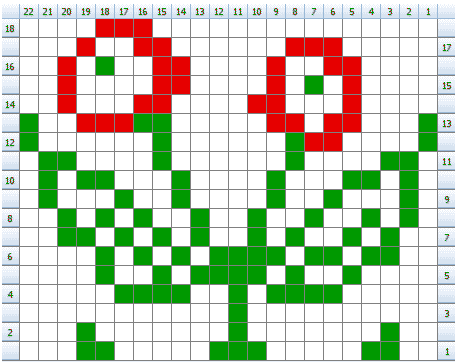 ---
The original publication of this pattern is in the public domain. This digital version with additional charts is copyright Sarah Bradberry, July 16th 2012. All rights reserved.