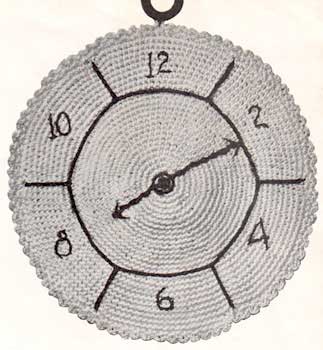 This pattern uses American crochet terms. US single crochet = UK double crochet. US double crochet = UK treble and so on
Materials
Clark's O.N.T. or J. & P. Coats Pearl Cotton, size 5, 2 balls.
Clark's O.N.T. or J. & P. Coats Six Strand Embroidery Floss, 1 skein.
Steel Crochet Hook US No 6 or 7/1.65 or 1.8mm
A bone ring.
Pattern
Starting at center, with Pearl Cotton, ch 2,
1st rnd: 6 sc in 2nd ch from hook.
2nd rnd: 2 sc in each sc around.
3rd rnd: * Sc in next sc, 2 sc in next sc. Repeat from * around (6 increases).
Continue to work sc in rnds, making 6 increases in each rnd (but do not have increases fall directly over those of previous rnd), until circle measures 6½ inches in diameter. Fasten off.
Embroidery
Draw face of clock on tracing paper.
Place paper over right side of crocheted piece and, using 3 single strands of Six Strand, embroider numbers in back stitch.
Embroider remaining lines in couching stitch, using 2 full thicknesses of Six Strand.
Make another piece same as this but do not fasten off at end.
PAD – Cut flannel, muslin or any soft material, slightly smaller than crocheted pieces. Place between crochet, tacking to wrong side of one piece.
Place padding between crocheted pieces and work over both thicknesses as follows:
* In next sc make sc, ch 3, and sc; skip 1 sc. Repeat from * around. Join with sl st in 1st sc made and fasten off.
With Six Strand, work sc's closely in bone ring.
Sew ring directly above the number "12".
---
The original publication of this pattern is in the public domain. This digital version is copyright Sarah Bradberry, July 16th 2012. All rights reserved.