Anyone who follows my blog (or knows me in any way), knows that I almost always prefer to repair things that I like rather than throw them away. I think it gives well loved items a special history and lets people who may find them later on that they were treasured. Sometimes mending something is a whole lot easier than completely remaking your daughter's favourite crochet blanket though!
I like to store my craft supplies in nice containers, and when things need to be especially portable I like to put them in overnight cases (you might know them as train cases).
Last year I bought this one from an op shop for $8. It was missing something that left two holes on the top, I'm guessing it was the brand logo. I almost did't buy it, but the inside was in perfect condition and it was such a nice colour that I decided to bring it home.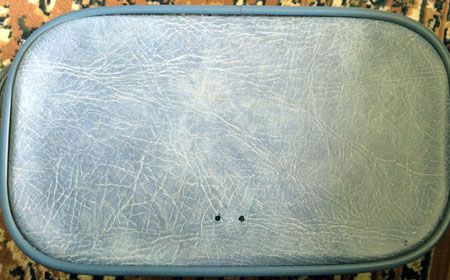 It took me a year to figure out what to do about the holes. Should I try and find something that would fit on properly, something vintage, or maybe something decorative? After spending an hour looking at resin cabochon on ebay last night, it finally hit me. I had the perfect thing all along and it only took 30 seconds to stick it on. Perfect.
Merry Christmas several days after Easter 🙂