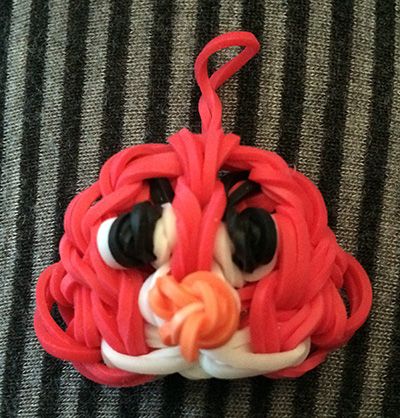 Charlie is a big Angry Birds fan, so I thought I'd have a go at he insisted I make him a Red Angry Bird charmon the rainbow loom. I think it turned out quite well, even though I didn't have the right coloured bands for his belly.
I would rate this as a challenging project. Because of the amount of bands on some of the pegs, you have to pay very close attention to picking up the correct ones when moving them with the hook. You'll also need good quality rubber bands as they are under a lot of strain during certain parts of the construction.
I used the following video by DIYMommy to make my bird. It's very thorough but a little bit fast to keep up with. Judicious use of the pause button will solve that problem, though.
Anyone who has been following my rainbow Looming adventures so far may be wondering why I skipped straight from beginner projects to advanced ones. I've found that my past experience with French knitting and crochet have really helped me get a grasp of the Rainbow Loom in no time flat.
Now I'm off to search through the stash for a pony bead because my 20 year old daughter has put in a request for an Iron Man charm…