After old Mr Stitchy the Brother embroidery machine cost me a bucket of money for repairs, he decided to depart in spectacular fashion by blowing a circuit board. A circuit board that is no longer manufactured and of which none existed in the country. Possibly on the planet.
I decided computerised sewing machines suck (the money from your wallet far too easily and often) and to replace him with an all metal Singer. So I bought a tan 306K at the op shop. It sews beautifully, though it has a couple of issues that need a repairman, a can of oil and more knowledge than I have.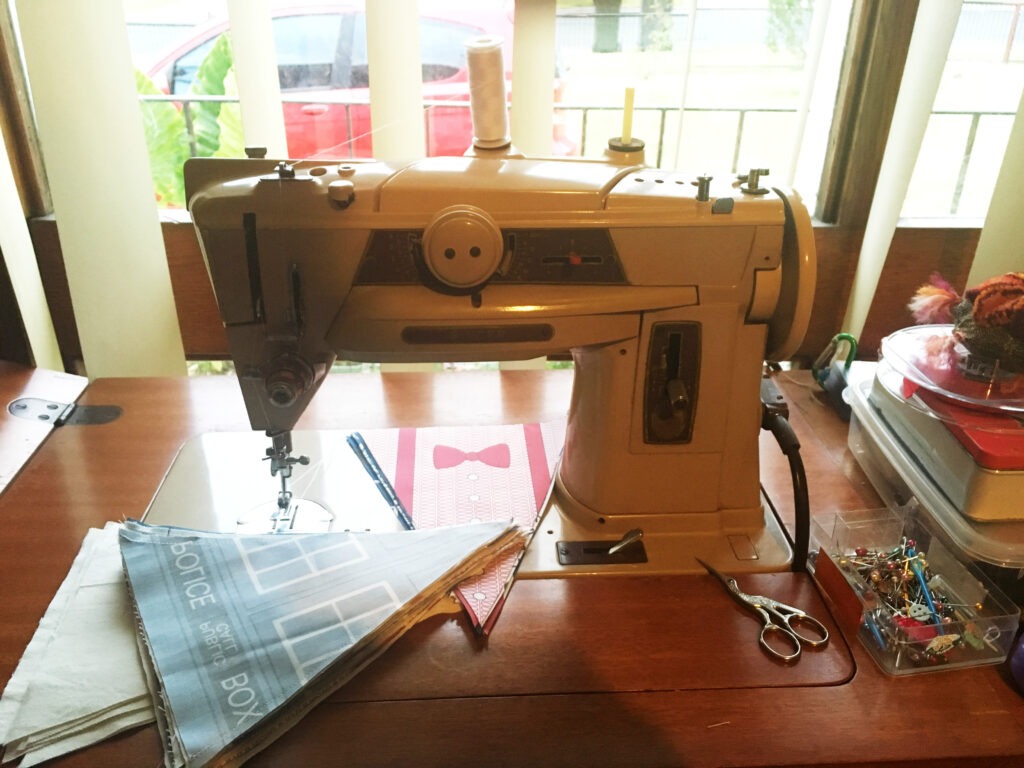 This is not it. This is the Singer 401G that I found in the table I wanted to buy for the 306K. For $25. With all the attachments that originally came with it. For $25.
Twenty five dollars.
After reading about the 401 and it's reputation as the bestest sewing machine evar, I decided to get it serviced before the 306K so some sewing could be done ASAP. The 306K sews amazingly but the needle position lever is seized and I use that a lot (I like top stitching all the things), so I thought this would be the best option for my budget.
Then I blew my budget buying cams for two needle sewing and attachments, which was fun.
As you know, I've been sewing up a storm with it already and you can see a new project underway. It's almost Christmas, so of course I'm making Doctor Who bunting from this great fabric I found on Spoonflower. Because what is more Christmassy than looking forward to the Doctor Who Christmas special?
That's right. Nothing.
Since she's a vintage German Singer, I called her Marlene. She already sews better than Mr Stitchy ever did, even straight out of the box. My sewing machine repair guy almost did that tweenage girl thing where you stand on your tippy toes and clap your hands. I see this as a good sign for the future.
I hope I'm not wrong. I have a lot of Craftsy classes to catch up on!