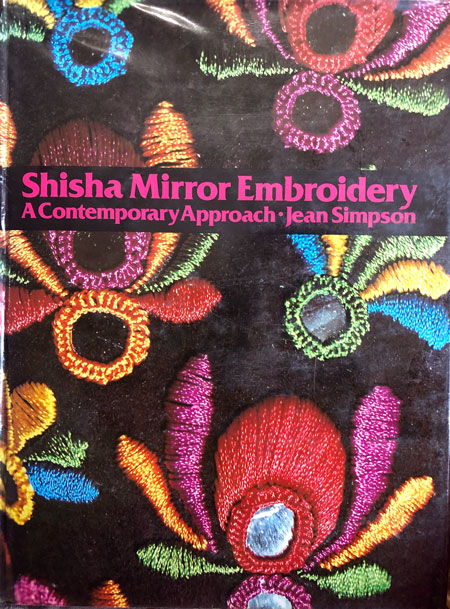 This week's favourite thing is a colourful (and shiny!) embroidery book that I picked up at the op shop (thrift store) for a dollar. Woo! I do love a bargain 🙂
"Shisha Mirror Embroidery, A Contemporary Approach" by Jean Simpson.
Published in 1978 by Von Nostrand Reinhold
ISBN 0-442-27641-9
As you can tell by the title, this book is about incorporating mirrors into your embroidery, specifically the technique that is commonly known as shisha embroidery, in which the mirrors are held down only by stitches.
The book begins by covering which types of mirrors and fabrics will work the best, then goes onto techniques. There are ten different ways to attach mirrors, including the traditional method and even one that creates three dimensional shapes with padding underneath. Each method has a set of step by step instructions and drawn illustrations, making them easy to follow. These instructions are what grabbed my attention when I first found the book, but they're just one of the really interesting things I found that I'll use.
The next chapter is called "Mirrors For Your Clothes", but if you look past the very outdated clothing (current style trends aren't quite that boho), you'll find it is full of motifs, ideas, stitches and other information. Rather than being a chapter full of projects, it's a description of the ways that several textile artists have used mirror embroidery on their clothing, including the fabrics, threads, embellishments and techniques they have used. At first glance you might be tempted to skip over this chapter because of the outdated styles but it's full of a lot of interesting information and tips that can be used with any style of clothing, as long as it has mirrors 🙂
Next up are accessories, including everything form handbags and purses, to hats, socks, and shoes. Whilst this chapter does include some projects, the instructions for many are quite minimal compared to today's project books and are most useful for inspiration and a supply of motifs and designs. This chapter finishes with several pages of instructions and inspiration for making decorative tassels, some with mirrors and some without. The styles of the tassels range from simple, to almost 3D sculptures in their own right, and would be a great addition to the chunky woven wall hangings that are popular today.
Chapter four, "Interior Reflections", is an inspirational chapter with sample projects using techniques to inspire your own work. It covers different types of pillows, chair pads, quilts, banners, boxes, and holiday decorations. My favourite project among these is a banner of a smiling sun, with the most amazing tassels hanging from the bottom. (see the gallery below for a photo).
Chapter 5, symmetrical designs.
Previous chapters have concentrated on creating larger designs by repeating small motifs or making art pieces with asymmetrical designs. This chapter concentrates on larger designs, with a symmetrical look. It includes five designs that you can trace or enlarge, with details on the way the designer embroidered them., plus lots of photos for inspiration.
Chapter 6, Mirrors with Needlepoint.
Some very dated needlepoint pieces here, but if you can look past the designs you'll find a few tips on working mirrored embroidery on needlepoint fabrics.
The last chapter is only two pages long, but I wish there was more! This chapter is a very quick look at some embroidered art dolls that have mirrors on them. They're all quite different and a good source of ideas for using mirrored embroidery on any 3D soft sculpture.
Shisha Mirror Embroidery is full of designs to try on any project you like, from small, single mirror designs like these to much larger designs.

Padding is used to create a three dimensional form with a mirrored centre.

1970's men's shirt and flares with mirror embroidery.

"Madonna and Child" by Maureen Flores.

Tassels take all forms from classic (centre), to freeform and wild.

Part of a mirror embroidered dress yoke by Alexis Wright

The neckline of this jumper (sweater) is decorated with embroidered flowers with mirrored centres.

"Moon" needlepoint. Designed by Kay Whitcomb and stitched by Diane Powers.

Tassels by Phyllis Hall
I really love this book, but the few copies that are available online are quite expensive. If you'd like to learn shisha and mirrored embroidery without forking out US$20 (or more) + postage for this book, check out shisha embroidery on YouTube, where you'll find a huge number of tutorials. But make sure you walk the dog, grab a cuppa and a snack first because you'll be there for days.
If there's a vintage embroidery book you'd like me to review, please let me know, and if I have it, I will!
As always, if you'd like to be notified of new posts and patterns via email, sign up over there on the left (on desktop), or underneath this post on tablet and mobile. Happy stitching!